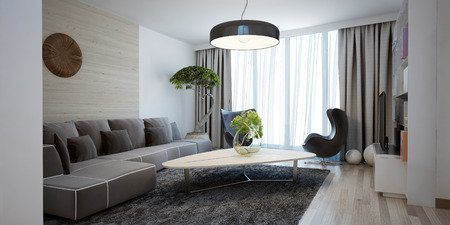 Furnishings with stylish sleek lines and a minimalist look are the hallmark of modern living rooms. With such a canvas to work with, warmth and visual interest can be created by using these decorating ideas:
Color—All white or black and white are very popular colors for modern living rooms. However, a pop or splash of a favorite hue can add life to a modern space. A single iconic Egg Chair in yummy mint green, orange or chocolate can be the perfect focal point.
Texture—Smooth wood-look tile floors (because they don't have the maintenance needs of wood floors), shaggy rugs, velvet upholstery or riotous display of decorative pillows in contrasting textures (and colors) are great additions to a modern décor.
Pattern—Iconic modern geometric patterns in fabrics, rugs and lighting bring warmth to modern living rooms.
Emphasis—Multiple objects of interest or a single focal point draws the eye around a modern space and presents a visual resting place. A fireplace, a massive mirror, an impressive work of art—any of these can become that important piece that brings a room together.
Rhythm—The repetition of color, texture or pattern throughout modern rooms creates appealing rhythm and movement. Alternating smooth and textured surfaces breaks up the space into small, rhythmic pieces. The same wood-look tile from the floor can be extended to the wall as well, creating yet more visual interest and rhythm.
Form—Nothing says modern like the appealing and instantly recognizable forms of Mid-Century chairs. As seen near the window in this room, the Egg chairs are perhaps the most iconic of all, whether they are vintage or the new chairs still being manufactured today. If you're smitten by the coffee table, that's another perfect choice for your modern living room. No matter which design you choose, one of these chairs can take a living room from pretty to thoroughly modern.