Freestanding bathtubs are so hot right now. There are plenty of reasons for this surge in popularity, not the least of which is the amazing versatility of these tubs to transform any space!  Such a dramatic piece in any bath can also help with the value of your home.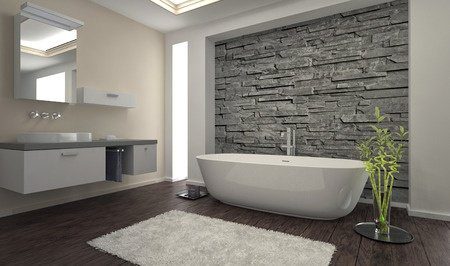 Freestanding tubs come in many styles, sizes and shapes. There is something nostalgic about a soaking in a claw foot tub with candles nearby, but more modern styles provide their own sense of luxury and relaxation.  The shape and size of the tub should fit with the size of the room itself.
This is the perfect tub for a smaller space is a claw foot tub. Since it sits above the floor and the tile underneath is still visible, the room can still feel open. However, a footed tub can make a large bathroom seem too empty.  For these spaces, a freestanding tub that rests on the floor itself (such as the one above) can be a better choice.
In a bathroom with either style of freestanding bathtub, the tile has a chance to be the star of the show.  The uninterrupted span of tile creates extra dimension and drama that can't quite be replicated any other way.  This makes the floor choice an especially important decision!
Freestanding tubs are typically installed without a surround.  This can free up more space in the bathroom or can allow more expression in the room, such as the dramatic stone in the photograph above.
The freestanding tub has more to offer than just saving space. It also adds a pleasing architectural look by design. Without having a surround the tub can be viewed as a separate element in the room. The various designs for this tub may actually be unlimited! Placing a unique freestanding tub in a bathroom is almost like adding a functional sculpture.
At Conestoga Tile, we are happy to help you select the best tile to compliment your freestanding tub!