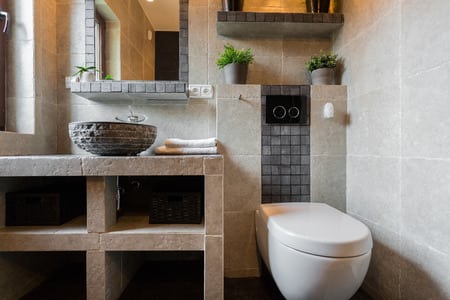 The powder room may, in fact, be the smallest space in your home but it is one of the most commonly used ones as well. It is a room that is going to be seen by almost everyone who enters your home at some point and therefore would benefit greatly by getting refreshed.  It may be equipped with the basics, but that doesn't mean the design must be boring. Here are a few ways to make your powder room stand out.
Walls
To spruce up plain painted walls, try using a different method when applying a new coat. Sponging or distressing the walls can give it a rustic look, especially when using a warmer color.
For an even more polished look, try using tile on your bathroom walls. You don't need to tile an entire wall to benefit from the style.  Try wainscoting or perhaps tile one feature wall using a unique glass or stone mosaic. Three-dimensional tile patterns and split-face stone are great ways to add personality to your space. The best part about tiled walls is how simple it is to clean!
Lighting
Powder rooms tend to be on the smaller side, so sufficient lighting is important. If the room does not have any windows, be sure to use higher wattage bulbs to make up for the lack of natural light. If fixtures are dated, try sleeker ones that still project light where it's needed.  If possible, move task lighting from above the mirror to one fixture on each side as this reduces shadowing on the viewer's face while performing morning routines.
Fixtures
Seeing as this room has only superficial needs and storage is not as essential as other areas, feel free to replace your toilet and sink with sleeker, more energy efficient designs. This is a good room to get fancy in as most guests will use it, so choose beautiful pieces that are a little more upscale yet remain functional.
Floors
Replace floors with an interesting tile shape or pattern that catches the eye.  If your room is full of solid colors, a busier pattern below foot would add a focal point. For a solid color design, play around with a honeycomb or fan shape that you wouldn't see so commonly. It will really add character and style to your space without having to figure out a complicated tile design.
We're always here to help you make your powder room stand out.  Our Showroom consultants are always happy to help.