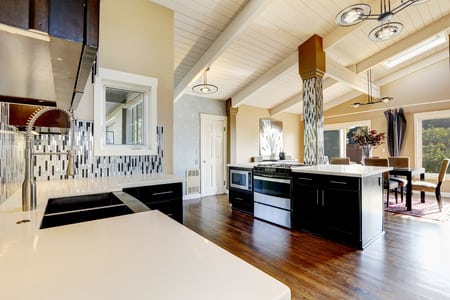 When it comes to finding the right look for your home, inspiration is never too far away.  Integrating nature into your home's design is an easy way to come up with a beautiful design scheme.  A natural color scheme can originate from your home's surroundings, a favorite vacation spot or even an exotic place you have yet to visit.
Use a photo graph to select colors
The best way to get started with incorporating these colors is to have a proper picture of them.  Pull attractive colors from the photo to use in your living space. When you look carefully at your photo you will be able to see past the dominant colors to the more subtle hues that support them. These colors will be just as important in supporting your interior's look as they are in their natural state.
Find the vibe
Once you have your colors, think about what you love most about the picture you are using for your vision. What lines and shapes are present in the scene? Does this place give you a light, airy feeling or a rich, lush sensation? Let that be your guide when choosing fabrics, patterns, and furniture. Delicate fabrics will give the room a breezy look while thick while rich ones in dramatic colors will create drama and add visual weight to your design.
The structure of your space is set by the material you use for your floor.  Try wood look tile for a classic feel, natural stone for a solid base, or matte tile for a sophisticated touch.
Choose your furniture
Furniture made from natural wood will help bring the look together. The stain you use for your tables, chairs, and dressers will be influenced by the colors used in your layout.  Pairing a lighter stain with darker, wood look tile floors or furniture with a darker stain in a room that receives a lot of natural light are good pairings. Sometimes pieces will look their best by letting them retain their natural state as well.
Kick it up with furniture with flair
The style of your furniture will be determined by the level of adornment achieved through the use of the room's other accessories. If a room's decorations are more simple in nature, a bit of flair in the furniture's design would kick it up a notch.  In turn, simple furniture can help keep the attention on fancier décor.
No matter what your inspiration, you can bring any environment to life through the use of the right materials, colors, and textures. So, grab a photo of your dream spot and start integrating nature into your home's design today!