As winter bids farewell, usher in warmth and comfort to your home with Nuheat, a leading innovator in floor heating technology. Nuheat offers cutting-edge products designed to efficiently warm up any room, providing a cozy escape from the chill of the season. What's more, integrating Nuheat into your home may allow you to reduce reliance on traditional forced air heating systems.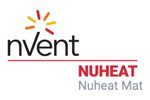 Embracing floor radiant heating represents a green and highly efficient method of warming your living spaces. Unlike conventional heating systems that propel warm air toward the ceiling, radiant floors disperse heat more evenly throughout the room. NuHeat, installed beneath your floor, minimizes the circulation of dust and allergens in the air, creating a healthier indoor environment.
The Nuheat Flooring System introduces warmth through electrified mats or cables placed beneath newly installed tile flooring. These mats seamlessly integrate into the thinset that secures your tiles, adding a mere one-eighth of an inch to the floor height. The discreet installation ensures that the beauty of your flooring remains uninterrupted. To manage and customize the warmth, Nuheat provides a separate thermostat, giving you control over the comfort of your space.
Beyond its functionality, NuHeat is an excellent choice for those seeking a heating solution that aligns with environmental consciousness. Conestoga Tile is here to guide you through the process of including NuHeat in your next tile floor installation. Contact us to explore how Nuheat can transform your home, providing not only warmth and comfort but also a greener and healthier heating alternative. Elevate your living experience with Nuheat's state-of-the-art floor heating technology.