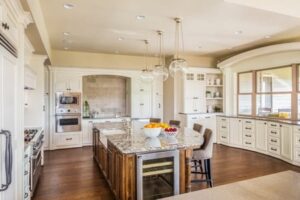 Whether you use your kitchen to entertain or to simply prepare a meal for your family, it's nice to walk into a kitchen that you love. If your kitchen is becoming a bit worn and a big-ticket renovation just isn't in the budget you can still upgrade the space without breaking the bank. According to real estate expert, simple kitchen updates can boost your home's value. Here are some simple fixes you can make today.
Replace the backsplash
Tired of looking at that old dated backsplash that is marred by stains that can't be removed? If so, it's time to remove your current backsplash and upgrade to modern glass tiles, mosaic tiles or even a fresh subway tiles with a chic pattern. Tile can be purchased in a variety of sizes, colors, and designs. We are happy to help you choose the tile that is right for you and your kitchen!
Give the Cabinets a New Look
Installing new cabinets can be expensive. However, you can get the look of new and improved cabinetry by simply by swapping out the old hardware. Adding new hardware can alter the feel of the space and make a dated kitchen feel much more modern. Select hardware that is trendy yet timeless.
New Lighting
When was the last time you changed out your lighting fixtures in the kitchen? It may be time to implement a new lighting scheme. You can try hanging stylish pendant lighting over the breakfast bar or the island. There are so many affordable yet trendy lighting options available. If you want to make a statement go big.
New Kitchen Faucet
Update the fixtures in your kitchen such as installing a new faucet with more features like an integrated sprayer. This will make cleaning up after dinner so much easier.
Clean the Appliances
Has your dishwasher seen better days? What about the refrigerator? Instead of swapping these out for new appliances, try bringing life back yours.  Dishwashers benefit from cleaning the food trap and a cleaning cycle.  Your refrigerator will sparkle when you take the time to empty it completely, scrub the interior and stock with only the foods you will eat.  Determine what appliances are in good working order and which ones need repairs.
By investing time with these steps, you can easily bring new life to your kitchen without a full remodel!  Our Showroom Consultants are happy to help you decide on the right backsplash to give your kitchen a fresh look.  Stop by one of our locations to see what's available.