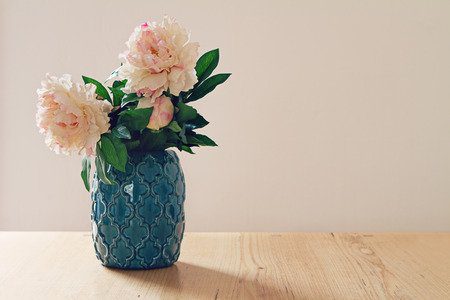 Do you desire a girly bedroom, office or den? A place where you can feel beautiful and surrounded by beauty? Are you afraid you may go overboard with pink and floral; resulting in a room that looks like your grandmother's living room? Below are guidelines to follow to create your perfect feminine retreat.
Start your decision-making process by beginning at the bottom.  The floor of your space will influence every other choice, so be careful here!  Light-colored carpets are nice but they quickly become dingy.  Wood floors are wonderful and rich in texture, but they require so much maintenance.  Wood-look tile is the way to start — very little maintenance and it won't stain.  Choose a light color for the tile to keep the space airy and feminine.
Next, select your wall color. A fresh pink rose or lilac purple are beautiful feminine colors. The wall color combined with the floor will set the tone for your room. Not sure what color you want? Look through magazines and really observe the pictures of rooms that attract you. Remember what you like about the room on the pages. Take a closer look at the wall colors in the pictures. Choosing a color can be overwhelming for most, especially if you are going out on a limb. An empty freshly painted space can create anxiousness for most people. Keep in mind that once the furnishings and accessories are added, the end result will most likely be a pleasing one. Also, remember the paint color is the easiest thing to change. If you want to play it safe, choose a softer/lighter shade of a flirty color.
Select furniture with simplistic lines and sexy curves. A tailored look will achieve turning your feminine room into reality. Stay away from anything highly ornamental. Elaborate decoration will become overwhelming and busy. Make your furnishing selections based on your mood towards the item. This is your special room. You should love everything about it, right down to the hardware on your desk.
Fabrics within the space should be simplistically beautiful. Keep drapery straightforward; this is where you really want tailored style to come into play. For upholstery choose fabrics that feel comfortable and supple. Add a fun girly print fabric to a desk or occasional chair. Mostly select neutral fabrics that feel supple and have interesting textures. Pillows require the least amount of fabric. If you are going to splurge, do so by selecting luxurious accent pillows. Around bolster pillow looks great and can also be used as an armrest or lumbar pillow.
 When selecting accessories think quality, not quantity. Add a couple of glitzy pieces, such as an acrylic lamp or a crystal vase. Throw down a neutral cozy rug, higher the pile the better (referring to the fiber/yarn height). Fresh flowers should always accompany a feminine room. Orchids are great because of the availability in color. They are also easy to keep alive. Keep all of your senses cheerful. Add a candle in your favorite scent. The soft glow of candlelight will provide a soothing, restful glow.
Designing the perfect feminine sanctuary doesn't have to be hard. Actually, it can be quite effortless as long as you listen to your instincts and choose items with love!