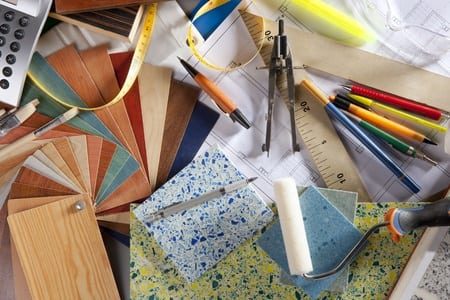 First, look around your space.  What are the dominant features of this room?  Most would say the shower and bathtub.  Updating to a tub or shower would be a way make large changes, even though you might be tempted to stay with the fundamentals. To make the most of your update, surround them with tile that is beautiful and breath-taking.
It's possible to have an approach by using color and one style. It is a traditional style that's somewhat timeless (based on the color of this tile!) It will make the room feel spacious and large, and it functions as a backdrop where a shower or a tub might be the purpose of emphasis.
Why not mix and match tile?  For instance, use a designer tile as a highlight while using a solid color tile for the majority of the bathroom. Experiment with ideas for using the designer tile as an accent wall or only in the shower.
One note of warning, if you intend to sell your house we recommend keeping this in mind when choosing tile. It is possible that a buyer may not enjoy a bold tile layout as much as you do!
We also recommend looking into functional yet stylish details. One popular detail is called a shaving pedestal.  It is a small shelf which is built into the shower's walls at the height you would put your foot while shaving. Very smart! Make certain to let us know whether you would like to incorporate this detail.
Our showroom consultant can advise you regarding the details of your chosen tile. It is important that the tile you select be appropriate for the bathroom.  This means the tile intended for a wet environment where you will be walking. If you want to read more about those, see our Learning Center!
Talk with our showroom consultants who can assist you in finding a way to add a designer touch while creating a room that could be interpreted into the style of somebody else. Happy remodeling!