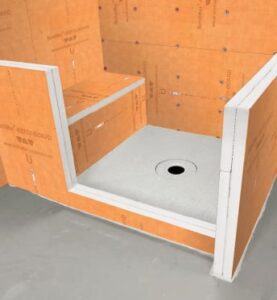 While tile is an easy to clean, affordable option, experienced contractors know that having the proper substrate for your tile is just as important as choosing a quality tile. Mold is among the most common complaints for tiles in addition to difficulty anchoring it to its surface. Kerdi-Board tile substrate by Schluter is among the most versatile options that we offer here at Conestoga Tile.
The substrate is waterproof, temperature-resistant and easy to handle. Among the most common uses are creating square walls. Kerdi-board is an ideal tile substrate for things, including constructing shower and tub combinations, as well as bathtub platforms. Regardless of the surface, whether uneven or with previous substrate already applied, Kerdi-Board is suitable for a variety of surfaces. The substrate is especially useful for all areas of the home and can also be used for wood and metal framing and as a partition for walls.
It is available in eight thickness choices from three-sixteenths of an inch to two inches and a V, U or E board shape. Various Schluter accessories are also available to complement it.
Do you have questions about Schluter's Kerdi-Board tile substrate? If you are a contractor seeking a high-quality option call Conestoga Tile.