In this installment of our How-To-Decorate series we are going to discuss the marvel and beauty of the beach at night! If you love bold color and décor that packs a punch, this is they style for you. Our favorite space for this theme is a rec room, children's playroom or a sunroom.  Let us know what you think of these ideas for beach decor!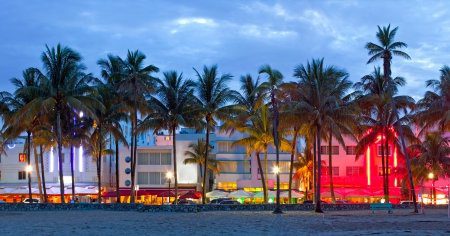 Themes are a wonderful way to keep your decor under control. If you are aiming for a dramatic space but don't want to go overboard, jot down a quick outline of what you'd like to accomplish before beginning.
This helps to give you an idea of every section of the room, but can help you to take a step back and evaluate how cohesive the space will be. Once the outline is complete, each piece you find can either be worked into the plan or will stick out like a sore thumb.  It's a wonderful way to avoid tough decisions.  Either it works with the theme or it doesn't!
To make it easier, we are offering our guidelines in a short and succinct bulleted list. We've found that when working theme it's more effective to pick and choose possibilities sparingly. Otherwise you risk 'overdoing it'. Remember that less is more. Lastly, when going about it this way the overall project seems less daunting. Just pick what you like and work it into your plan!
Colors:

Neon pink
Neon green
Neon blue
Neon purple
Neon orange
White – lots and lots of white!
Teal

Lighting

You guessed it – neon!
Plenty of natural sunlight
Organizing the space – make it as open and airy as possible

Furniture

Don't be afraid to let the color pop on furniture, such as a pink desk
White rattan
A large, bright sectional couch with curved lines

The walls

Bold wallpaper will work well, try pink flamingos on a teal background
Glass, be liberal with large mirrors that will reflect a large portion of the space and light

The floor

All weather rugs, such as those used on patios
Tile – lots of tile, big bold patterns and glossy surfaces
Something decadent – divide a room with a water feature that incorporates glass and water

Natural life – palm trees of course!