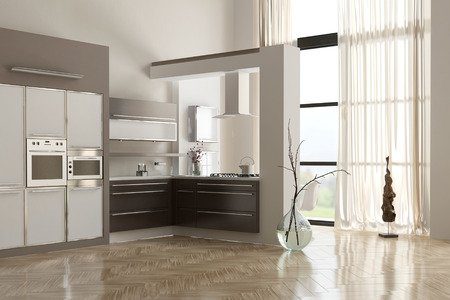 When you lack square footage but desire a functional kitchen, minimalist design proves the best solution. If you are considering upgrading a kitchen or renovating your existing home, this design style may be just right for you. The minimalist design style works best in a modern, minimalist interior.
The kitchen in the photograph above occupies only about 160 square feet. What makes this space a success is the use of function and architectural elements, plus there is plenty of storage space! All appliances are built in, such as the oven, microwave and refrigerator. Smaller, low profile appliances were selected for this kitchen. Keeping the range and the oven separate frees up storage directly under the range. Having the microwave built in frees up countertop space in this small kitchen.
The appliances are surrounded by wall cabinets that offer excess storage. There are even more cabinets installed above and below the countertops. The upper cabinets open horizontally, creating more horizontal storage that can be accessed easily. The use of multi-level drawers in the base cabinets allows for more storage space and more organization.
Having the architectural detail surrounding the range/counter space creates a separation, allowing for a dining area next to the kitchen. This detail designates the kitchen and dining areas as two separate spaces, which still feel open with a successful flow from one space to the other.
The success of this kitchen space is due to having plenty of cabinet storage and selecting smaller appliances that are installed on the wall. A chef's kitchen does not have to be big and lavish. They can be designed to fit into smaller spaces, you just have to plan well.
Conestoga Tile has many tile products that are ideal for incorporating into a minimalist design, including many products by Mosa.  Ask any of our associates today about designing a minimalist kitchen that will work in your small space!