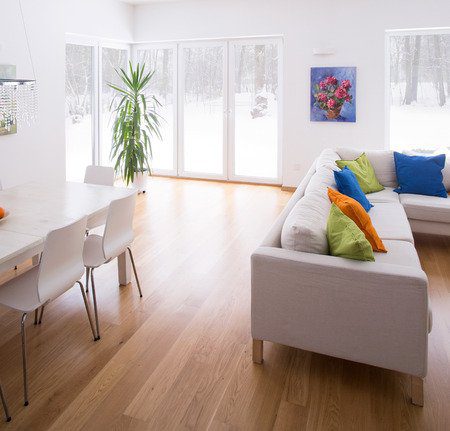 In part 2 of our Foundations of Interior Design article, we continue on with showing a variety of guidelines to make your house a more beautiful home.  Be sure to go back and read Part 1!
Odd Number Grouping
While the odd number grouping technique is well-known in interior design circles, the average person decorating their home will most likely have no knowledge of this tried and true rule.  While symmetry can be appreciated in a formal setting, arranging pieces in odd number groupings is more flattering to the eye.  This applies to large pieces as well as small.  If you are arranging vases on a side table, choosing three of differing heights will be more attractive to look at than 3 that look exactly the same.  For larger items, consider grouping a couch, side table and a painting on the wall together.  Three is the most popular number for this method, but larger odd numbers can work well when placing frames on the wall for instance.  Play around with this idea and you will start to see why this is a respected concept in the design world.
Furniture Options: Choose Classic over Trendy
Designers tend to stick with a more classic look when it comes to furniture as it gives the arrangement longevity.  Trendier pieces will need to be replaced more often to keep up with the changing times while choosing something timeless will prevent the need for a complete overall more often than you may have intended.  The room can simply be updated through its accessories which will save money in the long run.  Some good classic ideas: a half-moon entryway table, an upholstered armchair and simple side tables.
Use Color to Enhance the Space
Incorporating color into the space you want to decorate is an easy way to give it a more enticing look.  Consider painting the walls with a sharp color that will catch the eye. If you are sticking to a more neutral paint color, use your accessories to brighten things up.  Decorative vases in brilliant hues or pillows with an eye-catching pattern and color will effortlessly give the room some dimension.  Choosing a painting or set of paintings with colors to match the other accesories in the room will also help tie things together.
Showcase Your Home with Proper Lighting
With all the time you're putting in to make sure that the furniture, accessories and colors are just right, remember to use the proper lighting to showcase your efforts.  Take advantage of natural light if it is available.  Simply opening the curtains can be enough lighting for daytime use.  Adding a floor lamp or using overhead lighting and table lamps will ensure you can enjoy your design well into the evening.