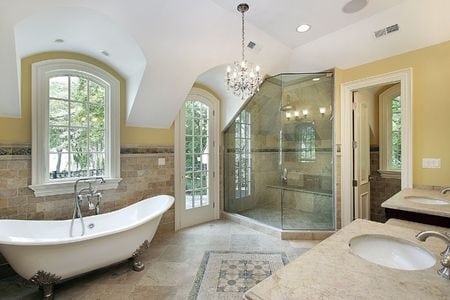 Let's be honest, bathrooms take up a lot of our days. From getting ready in the morning to restroom breaks at work, we see a lot of bathrooms in our lifetime. That is why you should invest in your home's bathrooms.  It's time to make to make your master bath into a DREAM BATHROOM.  To get started on your dream master bath, we have created a simple guide to inspire you:
Understand Your Bathroom's Layout. If you are remodeling your current bathroom, you will most likely have to work around wherever the plumbing drains and water lines are. If you are starting from scratch, you will want to determine the most functional, cost-efficient layout for your home. Either way, your contractor will be a huge help in this department. Ask for their advice and tips on your space! They will most likely be more than willing to share their expertise and help you create the best master bathroom.
Always Remember Storage. There is nothing quite as frustrating as having a bathroom with little to no storage. In all aspects of your bathroom, you will want to remember storage. When you are choosing a sink, consider the amount of storage it offers. If you choose to do something like a pedestal sink, you will need to find storage elsewhere in your bathroom. No matter what you are planning, make sure you are constantly thinking about the amount of storage you will have. This will help you in the future, we promise.
Incorporate Quality Lighting. The lighting in your bathroom can make or break the functionality of the space. You want a good amount of natural lighting coming into your space. Ask your contractor if you could add a window or skylight to have some natural light in your master bathroom. Also, you want to make sure that the lighting above your mirror is bright and effective. You will also want to make sure that it works well at night.
Invest in Your Shower or Bathtub. We encourage saving up for a quality shower or bathtub for your master bathroom. You want the space to feel luxurious and a quality shower will be just thing you need. With a variety of options available, you can practically customize a shower to your preferences.
The flooring you choose for your bathroom can make or break the design. If you want high-quality tile and stone, we have you covered! Also, we offer a wide selection of tile and stone for your bathroom walls, custom backsplashes or even underfloor heating. Why not begin creating your dream bathroom? Start today by calling or visiting us at one of our locations. We look forward to serving you!