VILLI glass tiles are some of the most beautiful and aesthetically pleasing tiles we've ever come across. From their innovative designs to their durable construction, they create a truly brilliant and sophisticated aura within bathrooms, kitchens, and entryways.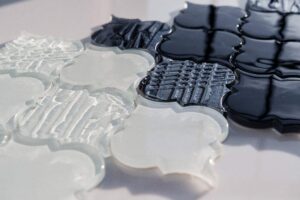 Whether you use them on the floor, the wall, or as a backsplash in the kitchen or bathroom, you will be impressed by these UV resistant tiles. Of utmost importance, they are available in a variety of colors which makes matching them to your home's existing decor a breeze. From white to red, the available shades will blend seamlessly into your home's architecture.
Of course, one of the most appealing aspects of VILLI glass tiles is the ability to use them to create mosaics with them. Thus, while the tiles look beautiful by themselves, you can transform them into works of art to line your swimming pool, patio, or bathroom walls with. In this regard, the only limits are your imagination and the designs you can dream up.
Conestoga Tile proudly offers VILLI glass tiles to our clients. To learn more about this product and the services we have to offer, contact us and we will be happy to answer your questions.