Bathroom tile made of ceramic and porcelain are the most ideal products for the bathroom due to the extremely wide range of design, durability, stain and scratch resistant properties as well as the tiles themselves being waterproof.  Natural stone and glass are also great products to use in the bathroom but a little more care needs to be taken when using these products.  With all of these products you can easily design a custom bathroom that is ideal for your personality and taste.  Each material type has its own special characteristics that may lead you to use one over the other.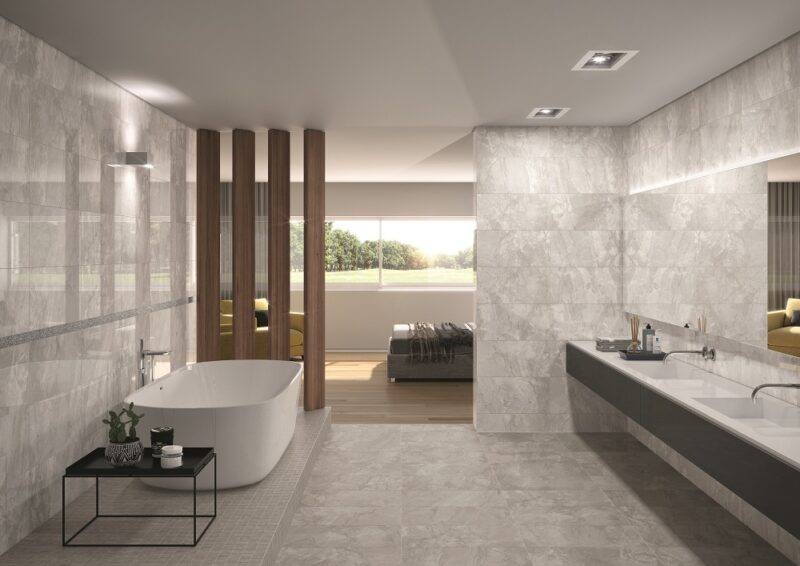 Ceramic wall tile as a bathroom tile comes in a variety of sizes such as 4"x4", 3"x6", 3" x 12" (and a variety of other similar sizes) but will also come in larger sizes such as 8×10, 12×24 and larger.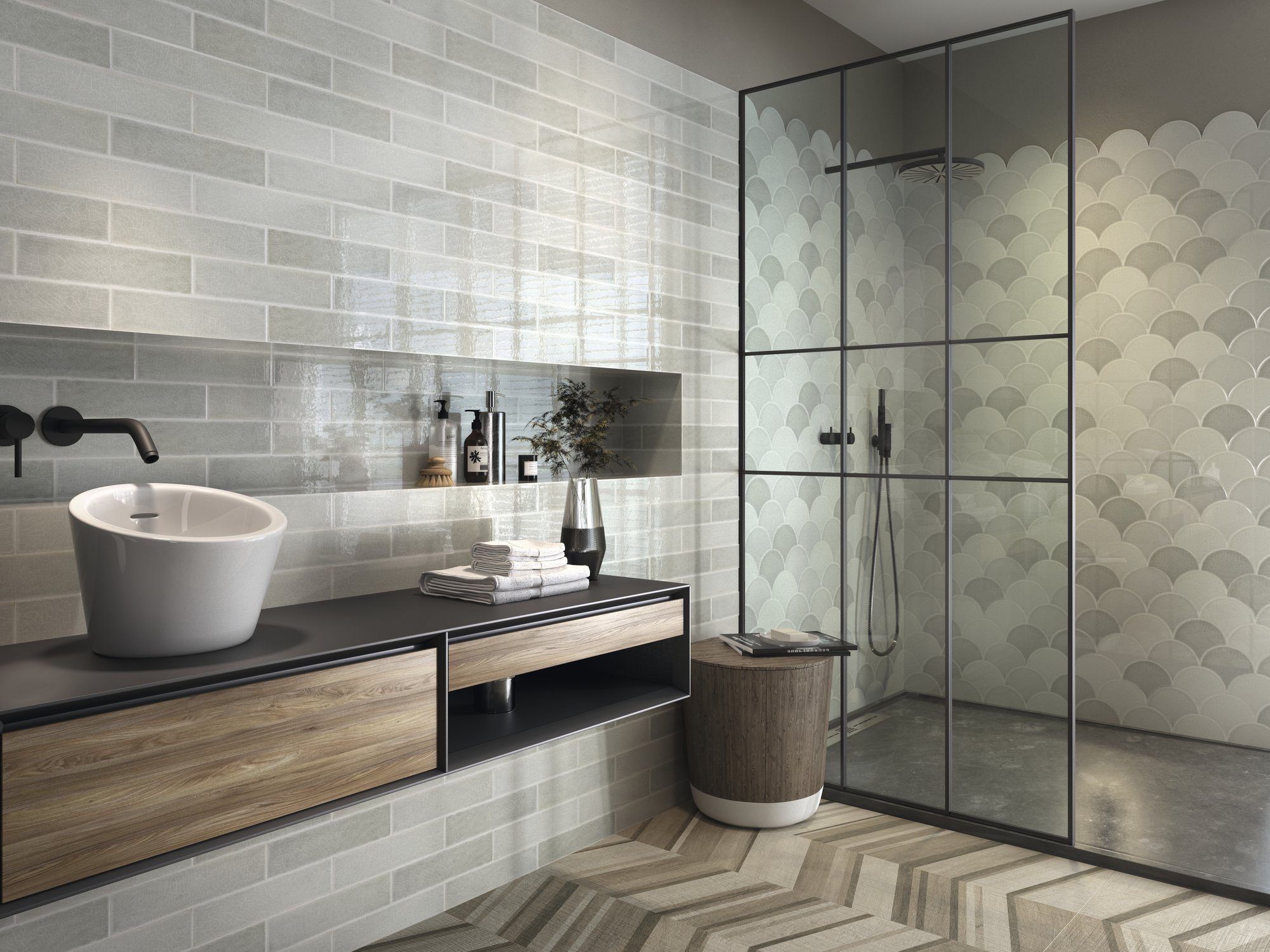 Be sure to check out all of the newer shapes available in ceramic tile like chevrons, hexagons, shells, fans, pickets and more.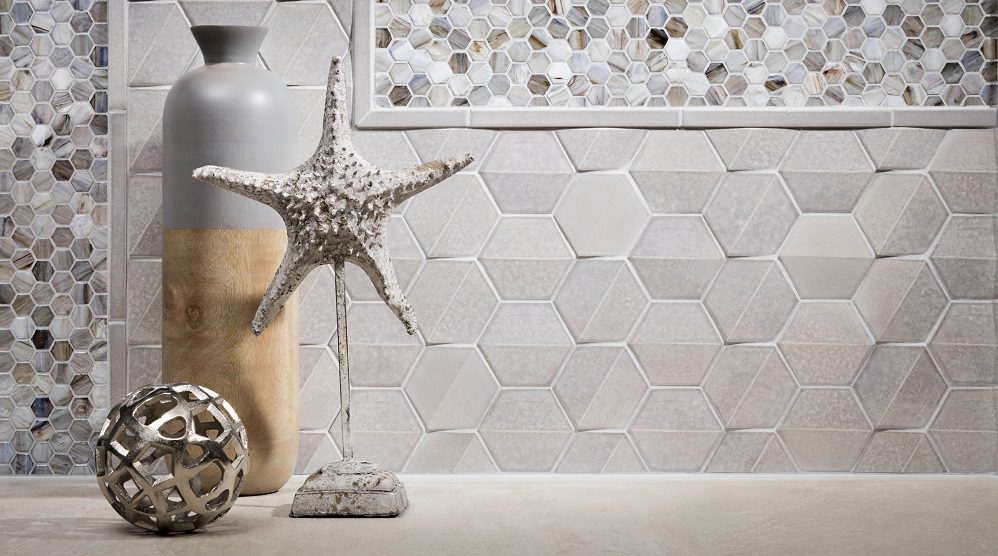 Ceramic wall tile has the advantage of glaze applications and textures that are unattainable by some of the other materials used for bathroom tile.
---
---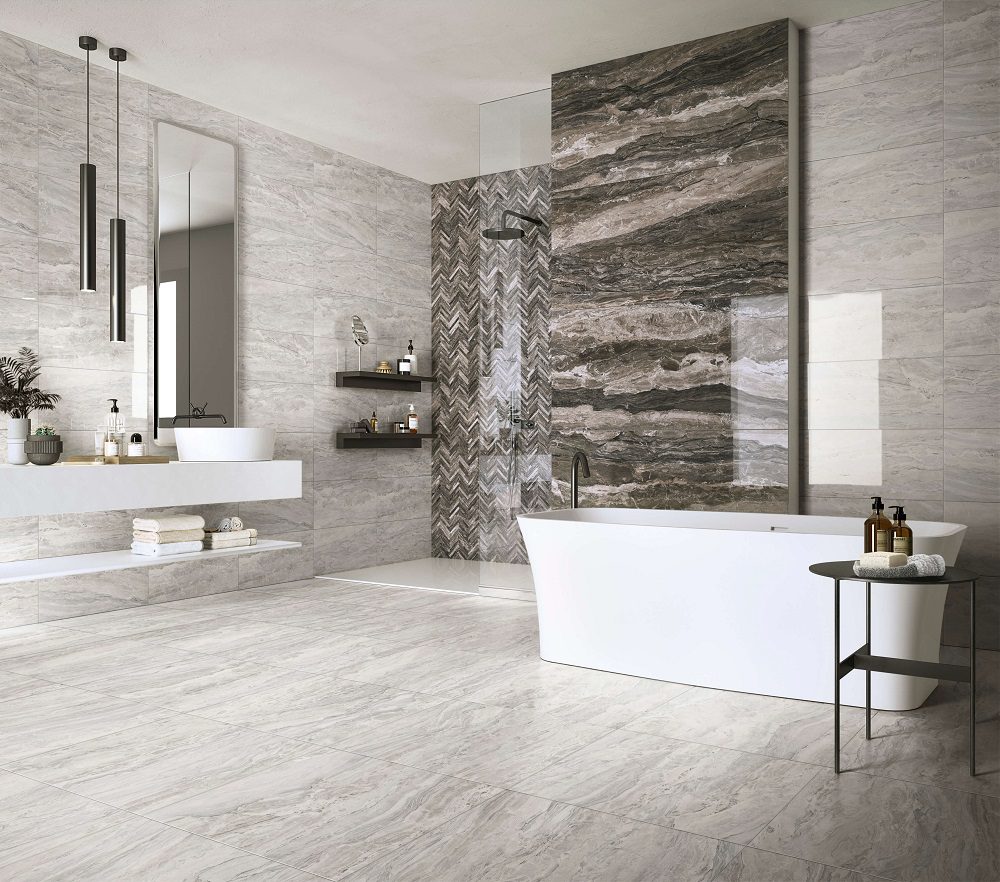 Porcelain tile's advantage as a bathroom floor and wall tile is its superior durability as well as its ability to be decorated in a very wide range of designs from intricate marble looks to bold wood looks and everything in between and beyond.  This wide range of designs on porcelain tile is due to high definition glazing technologies that can be used in the production of porcelain tile.
Another advantage to porcelain tile is its ability to be manufactured in an extremely large range of sizes from 1"x1" mosaics to 5'x10' panels.
---
---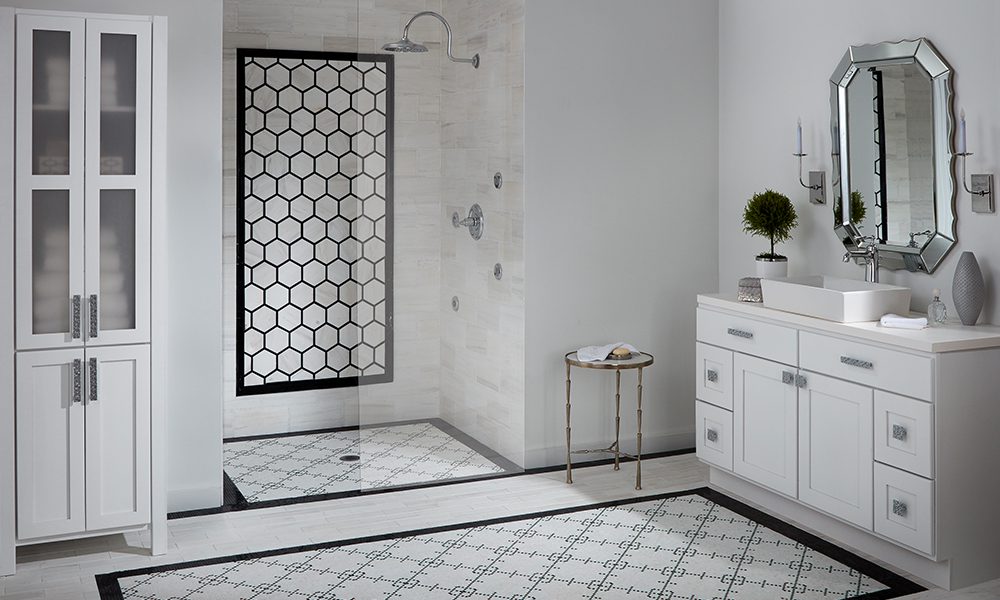 Natural stone tile has been used as a bathroom tile for centuries largely due to its immense beauty but in historical times it had always symbolized wealth and power too.  Today, natural stone still provides that same beauty and symbolism however it's much more accessible and you don't need to be an emperor to have it in your home (although it will make you feel as one).  In order for the stone to remain beautiful for many years it's important to remember to apply a sealer when installing the tile as well as every few years.
---
---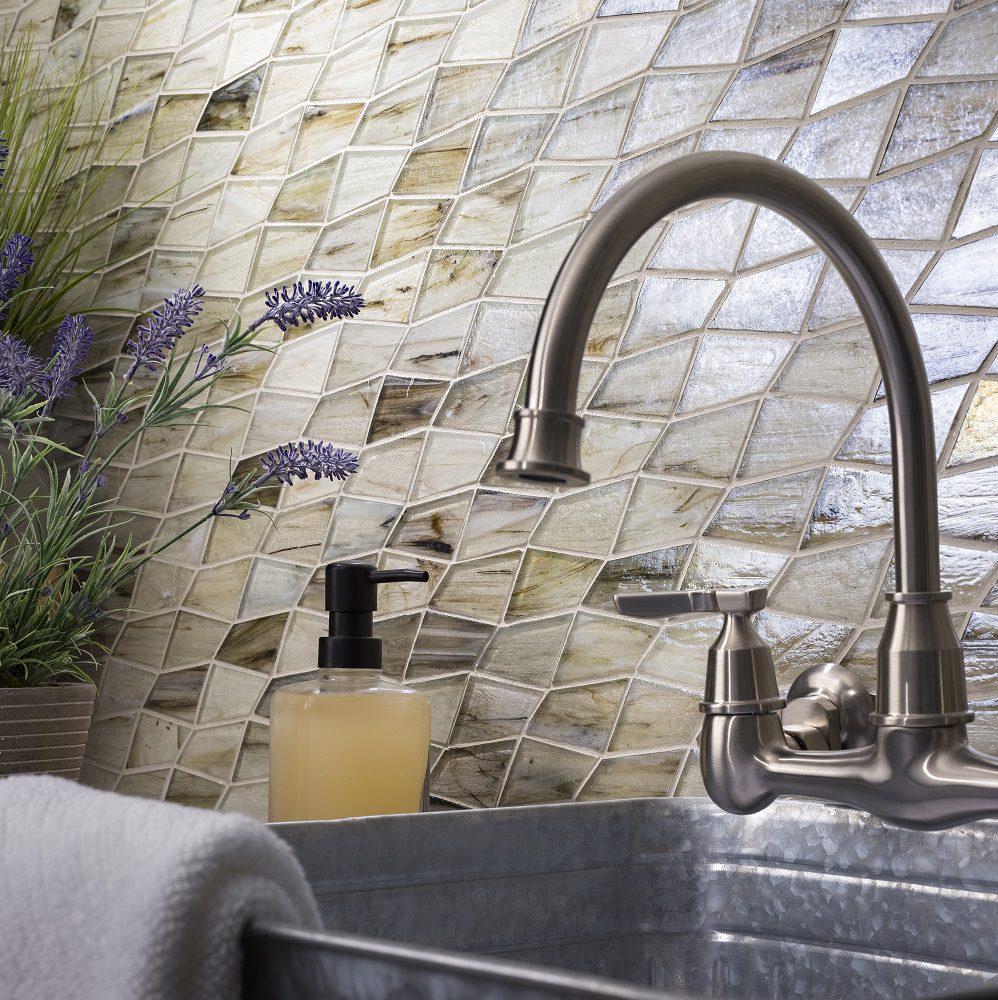 Glass tile comes in a large variety of colors and patterns.  Depending on the technique used to manufacture the glass, each piece can be so unique that there is no other like it.  Although glass tile can come in sizes such as 3"x6" or larger, often glass comes as a mosaic of small pieces in a varity of shapes.  Glass tile as a bathroom tile can be truly stunning in appearance.
---
---
Deciding between large or small tiles for your bathroom often depends on your personal taste and desired look or design. Each have their strengths and will create a different appearance within the bathroom. With a little planning, you can select the size that's right for your decorating vision.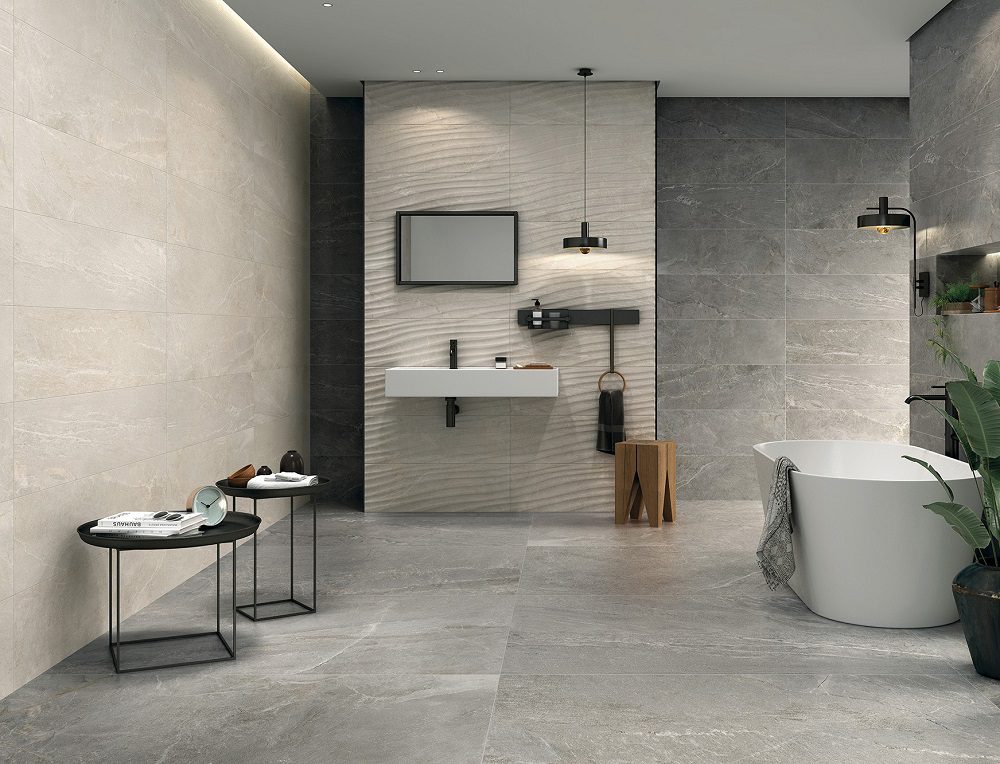 Large tiles are popular choices for the bathroom because they result in less grout joints allowing the beautiful facial designs on the tile to stand out and give the bathroom a more grandiose appearance. Another added bonus of large tiles is they create a visual effect that can make a small bathroom feel much larger and more comfortable.
Conversely, small tiles are better if you intend to create patterns within the bathroom. This too can have the effect of making a small bathroom seem much larger. But, because more grout needs to be used to set them in place, they require more maintenance. That's why it is highly advisable to seal your grout when using small tiles; this is especially true if you are intending to use penny tiles to create your designs.
---
---
How about cleaning tile?  Bathroom floor tile such as porcelain, ceramic or natural stone can be taken care of easily with a broom or vacuum followed up by a damp mop to clean any remaining dirt off the tile.  With the mop use a mild detergent and apply as little water as possible.  You'll be amazed at how easily bathroom tile clean up.
Wall tile in a bathroom is just as simple.  Usually all it takes is a damp cloth to keep them clean and looking like the day they were installed many years prior.
With natural stone Its important to remember that it is typically a porous product and therefore a little extra care needs to be taken to keep it looking great for many years.  It's good to keep a regular regimen of reapplying sealers every few years (based on sealer manufacturer instructions) to ensure the stone is protected from unexpected spills that can leave a stain.  Beyond that extra care in maintenance, natural stone is an easy product to take care of and makes for an extremely beautiful floor and wall finish in the bathroom.
Avoid using any abrasive sponges or steel wool. These products can scratch the surface of the tile. Never use bleach or ammonia on this type of floor. Products such as these can cause discoloration of the grout and tile over time.
Always follow manufacturer recommendations. Providing proper maintenance will keep floors looking great for many years to come.
(Below photo courtesy of APE Group – Toscana collection, color Blue on the wall with wood look floor tile)
---
---
Featured Collections