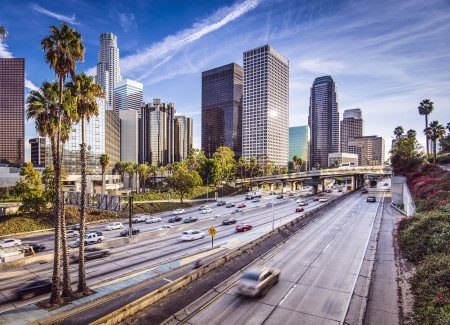 As we have often written, themes are a great way to keep your décor centered and focused.  It helps your entire space keep a cohesive look rather than splitting apart.  A themed room makes the decisions of color palettes, accessories, and furniture much easier.  The item in question is simply compared to the overall theme.  It will either fit right in or it can be passed by!
We offer several different themes to help you get started.  These themes should not be taken as rules, but rather as an outline to provide structure for your imagination.  Within the bulleted lists below, an endless number of spaces can be designed.  But don't over-decorate your space by trying to use every suggestion.  Just choose what will work in your space!
In this installment of our How-To-Decorate series we are going to discuss the glamour and fun that is the city of Los Angeles. If you love sunshine and a west coast aesthetic you are going to really enjoy this theme!
Colors:

White, white, and more white!
Minimalistic white and grey
Traditional warm colors found in Mission style design
Bright pop colors typical of Spain
Materials
Architectural features

Archways
On the ceiling, large wood beams
Glare diffusing windows so very little window treatment is needed

Lighting

Play up your windows as much as possible, and opt for white sheers or something equally light and airy
Plenty of natural sunlight during the day

Organizing the space

Modern, open and unfussy, think space!
Large community areas such as a family room or a space that allows for big, posh parties

Furniture

Glass tables
Uber modern pieces with clean lines
Mission style

The walls

Stucco
Plaster
Simple paint treatments

The floor
Accessories

Coffee table books with content that is chic and stylish
Large art print of a famous Hollywood icon

Natural life –palm trees, bougainvillea in pots