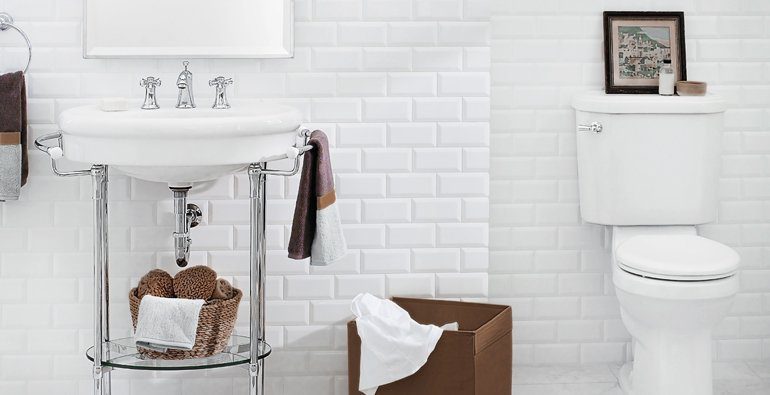 Looking for a different way to update your bathroom?  Try making it over in vintage style.  Representing the 1920s through 1950s, this era resonates with people as being a time when products were well-made and long-lasting.  Higher quality materials coupled with timeless design help make this one of the most popular time periods to emulate in interior design.
If you're running short on ideas, we have a list that will help kick start your design concept, however, there's no need to give up on the modern amenities you love for the sake of decoration.  Use this list as your guide to successfully blending the old with the new and preventing the final product from looking incongruent.
The Floor
Consider a mosaic tile pattern that will bring you back in time when you step in the room.  If you have a large surface area to work with, try installing a border and creating an inlaid tile rug pattern to add drama.  Some vintage style tile patterns are:
Basket-weave
Herringbone
Hexagonal
Black and white checkerboard
The Walls
To draw the eye up, use a distinctive look for your walls as well.
White bead board wainscoting, with paint color on the top half of the wall
Bright, patterned wallpaper (floral patterns were popular during this time)
Subway tiles (white is the most popular, but don't be afraid to use color)
The Fixtures & Accessories
These pieces are hallmarks of vintage style. While each piece does not have to be in the room, make yourself familiar with them for the sake of inspiration.  Each suggestion will help you build on your design and assist in accessorizing the space.
Claw-foot porcelain tub
Wall-hung or pedestal sink
Vanity Table with a chair, gilt mirror, and tray featuring perfume bottles and hairbrush set
Crystal knob hardware on drawers and for a doorknob
Medicine Cabinet
Polished chrome/nickel piping and tub fixtures
Porcelain faucet handles
Crystal chandelier for ambient light
Light, lace curtains for the windows
Wall-mounted metal towel rack
Wall sconces with mirror/crystal features
Upholstered Bench
Glass jars for cotton swabs and cotton balls
Tin trash bin
Artwork featuring antique advertisements for washroom products
Gold or silver leaf accents